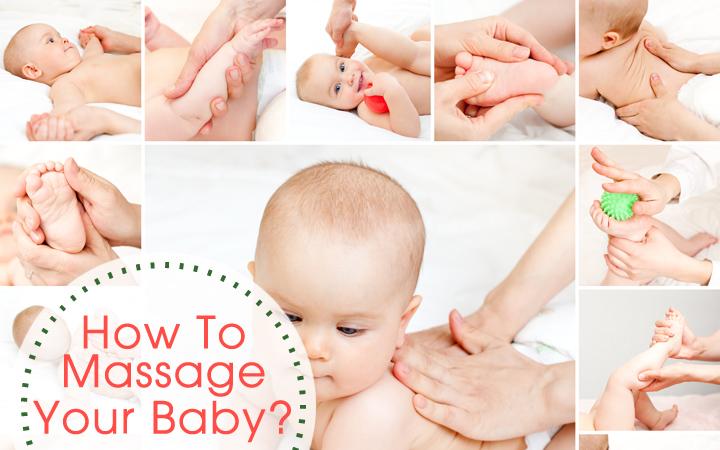 Baby Massage – A Guide for Fathers
Your baby loves to be touched. In fact, touch plays an integral role in the growth and development of your little one. A baby who is touched and cuddled more forms a deeper bond with his parent. It is the best way to comfort your child and also a lasting solution to colic.
A massage is a great reason to touch your baby. Along with deepening the bond with your baby, it also helps to improve his blood circulation and strengthen his growing muscles and bones. But why should mothers have all the fun massaging their babies. As a father, you too can try your hand at massaging your baby and spend some quality time with your little one.
A recent study showed that fathers who regularly massaged their babies felt a deeper attachment with their child and the babies also responded back by smiling, reaching out, vocalizing and more eye contact towards their fathers. The fathers also felt that this activity helped them to relax better and bring down their own stress levels. And what more! the mothers get a well deserved break too.
How to Prepare your Baby for a Massage:
The first thing is to find the right surface for your baby to lie down. It is best to find a warm and flat surface anywhere in the house where both of you are comfortable. Place a blanket, preferably a washable one, on the floor and lay your baby on top. You can either use commercially available baby oil or virgin coconut oil for massage.
Pour a small amount of oil into your palms and rub well to warm the oil slightly. Make it a point to look into your baby's eyes while doing the massage. You can either sing or talk to him during this time and you will see how your baby responds with his giggles and smiles.
The Right Massage Strokes:
The legs are a good place to start massaging as this is the least sensitive part of the baby's body.
Pour a little oil in your palms and rub well together.

Wrap one hand over his right thigh and pull down while doing the same with the other hand one after the other.

Be gentle using a squeezing motion and massage all the way to the end of the legs

Repeat a few times alternating between right and left legs.
Hold the right foot in both your hands

Rotate the foot in both directions for a couple of times

Massage using stroking movements from the top of the foot to the ankle and finally to the toes.

Next, you can massage the soles of each foot by drawing tiny circles on the sole. Your baby will love this and give you his cutest giggle.

Next, hold each toe between your thumb and forefinger and then pull gently till your fingers slide off his toes. Remember; do not try to break his knuckles as the bones are very fragile.

Do this for all ten toes.
This is quite similar to what your performed for your baby's legs.
Take his right arm and do the upward to downward stroking massage all the way from the armpits to the wrist.

Next, rotate the wrist in both directions using very little pressure.
Hold open his palm and trace tiny circles using your thumb

Smile at the baby as you do this as he surely will be

Next, gently take each finger between your thumb and forefinger and pull gently till the fingers reach the end.

Repeat for all ten fingers
For the Abdomen - 'I Love You' Technique:
Face your baby and using firm but gentle movements, trace the pattern of the letter 'I' on the right side of your baby's stomach. Start just below his ribs and massage down to his hip joint in a straight line.

Next, using your fingers to stroke from the left side of his tummy to his right and then massage downwards on the right side to his hip joint to form an 'L' shape.

Next, massage upwards from your baby's left hip and take the curve over his tummy and bring your fingers down the right side of the tummy to form a 'U'.
Place both your hands over his chest and then using stroking movements to the outer end of the chest

After reaching the outer ends, bring the hands back together to the tummy as if you are tracing the pattern of a heart.
Roll your baby on his tummy and then place both your hands on his back

Use tiny circular motions to massage his back beginning at the neck, along both sides of the spine reaching all the way to the buttocks.
Finally, use long strokes from the shoulder till the end of his toes. And finish with a kiss and cuddle.